The Amazon Logo: History and Design Elements
If we talk about the billion-dollar industries of the world, it is impossible not to include Amazon. Not only is Amazon a tech-giant that is responsible for incredible advancements in technology, but it is also the 2nd highest revenue-generating retail business in the whole wide world.
Jeff Bezos found Amazon in 1994 in Seattle, Washington, as an online retail book store. It is almost unbelievable that a mere online book store generated $20,000 in a week in the first two months. Amazon went through one of the most rapid advancements and expansions in history and soon grew from a book store to one of the most tech-savvy and profitable corporations in the world, making its mark of unparallel success in the technology and retail industry.
Jeff Bezos, CEO, and founder of Amazon, Jeff Bezos, has been the richest man in the world for the past few years and currently is the 2nd richest man.
Today, we cannot imagine anything that Amazon doesn't sell. Over 12 million products are currently listed on Amazon for trading purposes. The industries Amazon has taken over since its existence are e-commerce retailing, cloud computing, artificial intelligence, digital distribution, self-driving cars, consumer electronics, and more.
Apart from all the progress, Amazon has made in technology and customer service, one thing that has remained simple and exclusive is Amazon's process of logo designing.
Not going to lie, the Amazon logo might not seem "that good" to you—it's just simple and basic, right—but you would be surprised to know that Amazon has been through a long way to reach the stage where the global audience appreciates it just for its simplicity.
Still not convinced? Well, let's check out the history of the Amazon logo in detail and see what it can teach us.
Amazon Logo: A History
The story behind Amazon's logo is, without a doubt, intriguing and worth narrating. Since the birth of Amazon, Jeff Bezos has always put his faith in a graphic designing company named Turner Duckworth for Amazon's logo designing process.
At first, the Amazon logo was just the letter "A" with a silhouette of a river flowing inside it.
However, in 1997, that logo got replaced by one that said "amazon.com" with a slogan, "Earth's Biggest Bookstore," written in a black serif font.
After that, Amazon kept changing its logo from time to time—which was weird, to be honest. It is not healthy for a brand to keep changing its logo every year. But since the brand was evolving, it was important for the company to improve its image.
In 1998, Amazon introduced a new logo with "amazon.com" written in large fonts, accompanied by the same slogan written below the brand name in small fonts. Later that year, the logo changed again; it showed "AMAZON.COM" with "O" written slightly larger in deep yellow color.
After one more year, Amazon changed its logo again, and we saw the first variation of the logo that we see today. The logo portrayed "amazon.com" with an orange underline. That variation stuck around till the year 2000.
In 2000, the logo was changed again and became "amazon" with a curvy underline starting from "A" and ending at an arrow pointing to the "Z."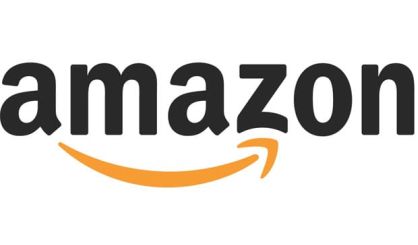 Since Jeff Bezos was attending all the logo designing related meetings and approved everything by himself, this the change went quicker than previous changes, and it stuck around forever. It also allowed the company to save a lot of money that they would have spent on marketing campaigns, approvals, and revisions if Bezos hadn't attended the meetings himself.
Finally, that was the last creation of the Amazon logo, and since 2000, it has stuck with the company. Yes, it is the same logo that we see today. Considering how much growth and popularity Amazon has seen in the past couple of decades, it is safe to say that the current logo isn't going anywhere.
In fact, some of the Amazon ventures, such as Prime, Merch by Amazon, and Amazon Music, are gaining so much popularity for the past few years because the logo is instantly recognizable, and people have put their faith in it.
Elements in Amazon Logo Design
Amazon logo may seem elementary and "nothing special" to many people, but their paradigm would definitely shift once they learn what the logo actually represents.
The orange-colored arrow that begins at "A" and ends at "Z" is an easily decipherable design element. It conveys a message that Amazon sells everything from A to Z, which is true. When Amazon adopted this logo, the company was well past from being only a bookstore. It had become an e-commerce business with a large variety of commercial and consumer items.
You might ask why Amazon hasn't changed its logo since then, because it is more than a store now. Well, you are right. Amazon is far more than just an e-commerce business; it consists of media and music streaming platforms, artificial intelligence products, cloud computing warehouses, automated delivery systems, merch designing, etc.
However, they don't need to change their logo. The arrow that goes from "A" to "Z" already covers everything, and it will continue to cover everything that Amazon does ins the future. Jeff Bezos probably thought of this when he landed on the idea of putting an arrow that sends a message of Amazon being a complete package.
After knowing what the Amazon logo represents, it is safe to say that the company would probably never need to change their logo because it is literally a logo for life—unless they come up with something better than the "A to Z" idea.
Frankly speaking, the audience of Amazon doesn't really care about its logo because they are getting fantastic quality and customer service. It is other companies and brands that need to care about the Amazon logo and learn from it. 
We know that logo designing is not easy. Everyone can come up with an idea but representing that idea with perfect graphics and visuals is something only a professional can do; one example is Logozila.
All in all, the Amazon logo teaches us that brands don't need to care about how many colors should be in a logo or how fancy the font should be. The right message is all that matters.